Talk about indoor water parks or outdoor swimming spots with a sandy touch, USA is a country with more than 309,000 public swimming pools, resorts and waterparks. These water parks have giant slides and multiple tubes to help you get wet and crazy in the summertime. 
Traveling to the USA will be the most thrilling experience of your life, and you won't like to miss some of the most popular water parks here. If it is your first time in the USA, read this article carefully to select your next stopover to spend some quality time with family and friends. 
Water Parks In the USA
Kalahari Resort
This resort is a perfect indoor water park and covers an area of 125,000 square feet, and this place features different rides, spas for relaxing, Victoria falls family ride and wave pool. On the flip side, Zambezi Outdoor water park is the perfect place to swim and hang out. This outdoor water spot offers fun slides, such as Anaconda Experience, Swahili Swirl and Splashdown Sfarai, starting from Memorial Day to Labor Day. A perfect place in Wisconsin Dell for tourists to enjoy and relax.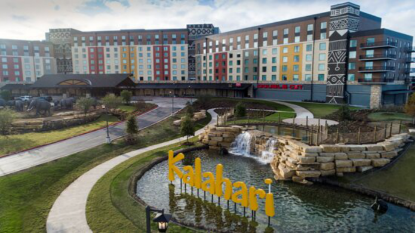 Pump House Indoor Water Park
This spot at the Jay Peak Resort is ideal for adults and kids to take a deep plunge into the cold water or hot tubs, both indoor and outdoor. There are plenty of fun activities to do here, like riding the 65 foot tall La Chute, surfing on Double Barrel FlowRider and enjoying Big River. What if you are exhausted after spending a lot of time in the water? We recommend you to visit The Drink, a poolside bar, grab a nice drink and some snacks to sit back and enjoy. 

Water Country USA
Are you staying in Williamsburg, VA? Don't miss the chance to get wet at globally famous Water Country USA. Be it drop slide or Vanish point with its towering structure and two wave paths or skybox, this water park is ideal for amusement and crazy water drills. It is the largest park in Virginia with 25 artistic slides, including H2O, UFO, Kitter Korral and KIDsiderate. The last one is mainly for kids to ride on it for COW-A-Bunga like experience. 
Water Zoo, OK
Oklahoma is a diverse destination with plenty of attractive spots like Water Zoo. This water is suitable for learners and people with a phobia of the ocean and waves. You can step into 4 feet deep wave pool to experience the motion of the sea. Parents can arrange birthday parties or hang with kids in Cub's Cove, a place designed for friendly entertainment, making this place a suitable attraction for visiting families. 
Dollywood Splash Country
This water park is expanded on 30 acres and features 23 unique adventure and thrill slides. This entertainment park has a water coaster in Tennessee, the only of its kind. Cascades and Little Creek falls are two entertaining areas designed for families to visit and play. This place has Mountain Scream body slide and RiverRush in its arsenal too. 
Cliff's Amusement Park WaterMania
This place is second to none in terms of fun rides, slides, and entertainment for the entire family. Li'l Squirts is an attraction specially crafted to keep tykes, toddlers and parents engaged. The prominent spot of this park is Mega Water Monkeys, a gigantic ride to offer something for everyone. Take your kids to this water park, and they will be thanking you for making their day special. 
Conclusion
Put on your swimsuit to jump into the pools, slide on water and enjoy the big splash. Kalahari Resort and Water Country USA are worth-visiting places.